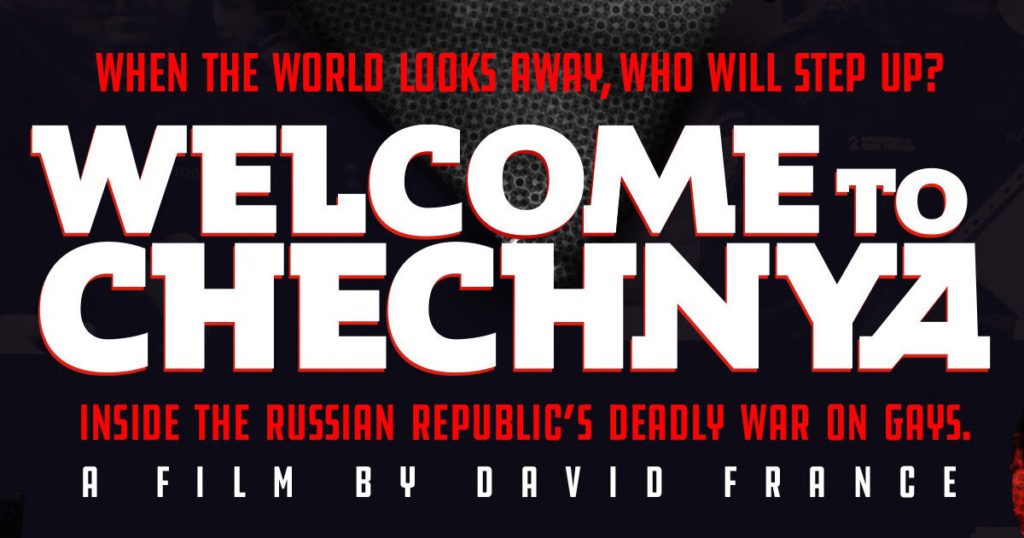 In our introduction article, In Praise of Documentaries, we noted that at their very best, documentaries can inspire you to get off the couch and make a difference in the world. For us, Welcome to Chechnya was that documentary.
Welcome to Chechnya is available for viewing on HBO. And it's worth the $15 or whatever for one month to watch it (heck, watch Raised by Wolves  while you're at it…fantastic series!). According to HBO:
From Academy Award-nominated director David France (How to Survive a Plague, The Death and Life of Marsha P. Johnson) comes Welcome to Chechnya, a powerful and eye-opening documentary about a group of activists risking their lives to confront the ongoing anti-LGBTQ persecution in the repressive and closed Russian republic of Chechnya.

With unfettered access and a commitment to protecting anonymity, this documentary exposes Chechnya's underreported atrocities while highlighting a group of people who are confronting brutality head-on. The film follows these LGBTQ+ activists as they work undercover to rescue victims and provide them with safe houses and visa assistance to escape persecution.

Welcome to Chechnya is a Public Square Films production, directed by David France and produced by Alice Henty, Joy A. Tomchin, Askold Kurov, and David France.
Welcome to Chechnya highlights how attacks on basic human rights can hurt us all. A government intent on brutalizing one group of citizens can just as easily turn on another. Like in Nazi Germany, one minority group may be targeted but hatred often spreads to other groups. Individuals become enemies of the state. From the famous, like singer Zelim Bakaev, to the common person on the street, Chechnya's campaign to purge, attack and kill LGBTQ+ individuals is horrific. Participants in the film, both individuals and their families, describe how they are targeted and fear for their lives. Secret film footage of beatings and torture is included throughout the documentary and is hard to watch.
Welcome to Chechnya brings you into a republic of the Russian Federation. As you meet the subjects of the documentary, you note that they have lives similar to yours. They love. They travel. They go out for coffee. They have issues with their families. They work hard. They are trying to survive in a difficult environment, made even more difficult because of their sexual orientation or gender identity. Something that they were simply born with, like having brown eyes, dark skin, or Jewish parents has made their very existence undesirable and punishable by their government, and sometimes by their families as Chechnya is Muslim majority country.
More than just following the struggle of those who are trying their best not to be captured and killed, Welcome to Chechnya follows some of the most brave individuals on the planet. These folks, many who are LGBTQ+ themselves, work to hide and find asylum in other countries for individuals whose lives are in danger. The workers themselves become burned out, scared, and targeted.
Watching the documentary makes you want to reach out and hug those in hiding and those who are helping them. Watching the documentary makes you sad, and angry, and want to help. The website for Welcome to Chechnya has helpful steps you can take to make a difference including:
Support Evacuation of Victims
Amplify International Outcry
Hold Perpetrators Accountable
Understand Global Context
Welcome to Chechnya notes "In approximately 70 countries around the worlds, it is a crime to be LGBT+; in 12 of those countries, the penalty could be death." Think it can't happen in the United States? It's not so impossible. First, as a nation, we turn a blind eye on others in need in countries like Chechnya and refuse to provide asylum. Second, we place highly religious, highly conservative individuals to the highest court in the land to overturn human rights legislation targeted to provide equity and equality for LGBTQ+. Next, we not only allow for discrimination based on sexual orientation or gender identity in housing, employment, etc. but we consider legislation to "protect those with a moral objection."
We encourage you to watch the documentary Welcome to Chechnya and share the trailer with your friends. Donate, if you can, to help the cause in Chechnya, and support LGBTQ+ issues abroad and here at home. Speak with your representatives about the importance of offering asylum to LGBTQ+ individuals from places like Chechnya, and demand equal rights here in the United States.
To watch the trailer, visit our Facebook page here.