With the Thanksgiving holiday just around the corner, many people will soon be traveling and gathering with friends and family. Whatever your plans, it is important for us all to be aware of the current covid-19 situation.

During the first part of 2021, increasing vaccinations, masking and social distancing initially helped reduce new infections and deaths. However, by mid-summer many people began letting their guard down and vaccination rates started to level off. These two factors were instrumental in allowing the virus to follow a predicted course and start rising again.

Today, nearly two years since the pandemic began, the United States is averaging over 94,000 new infections every day. Nationwide, new infections have increased by 26,000 per day (a jump of 27%) just since late October (1). The U.S. continues to lead the world with more covid deaths than any other country. As of this writing, America has lost 768,693 moms, dads, grandparents, sisters, brothers, children, friends and relatives in less than two years. We are adding over 1100 people per day to the covid-19 death toll.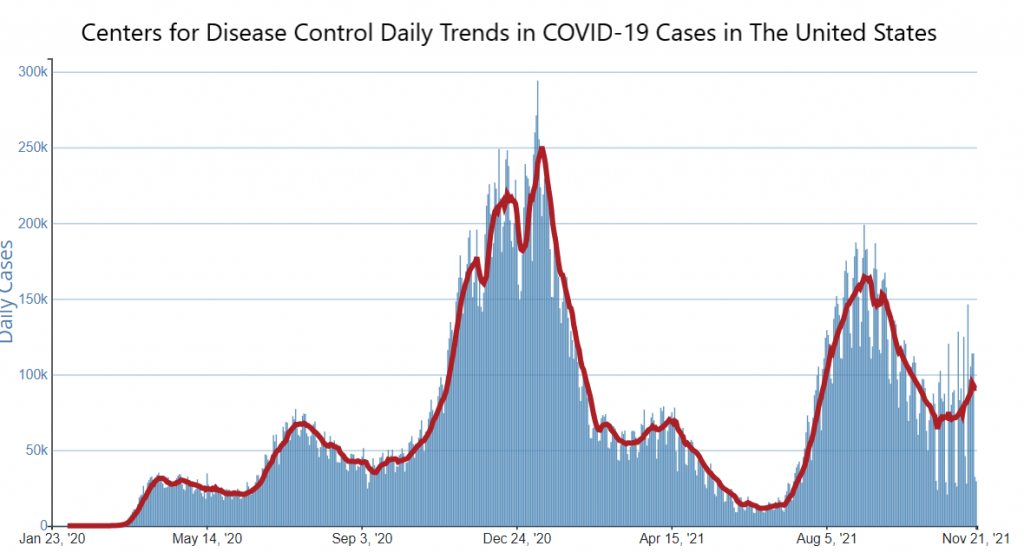 With less than one week before Thanksgiving 2021, there are over 41,000 people hospitalized with the coronavirus (1). New hospital admissions have been rising over the last two weeks and are now adding over 5500 new covid patients every day. On 11/18, 77% of intensive care unit (ICU) beds are in use nationwide.

If you happen to live in Michigan, the numbers are even more startling. During the week ending 11/20/2021, Michigan reported the highest numbers of daily new infections and deaths since the pandemic started (2). Covid related deaths are up 67% in the last month and hospitalizations have increased by 42% (3). In Calhoun County, Oaklawn hospital is reporting 79% of their ICU beds are currently full and Bronson Hospital is reporting only 17% of their ICU beds are available (4).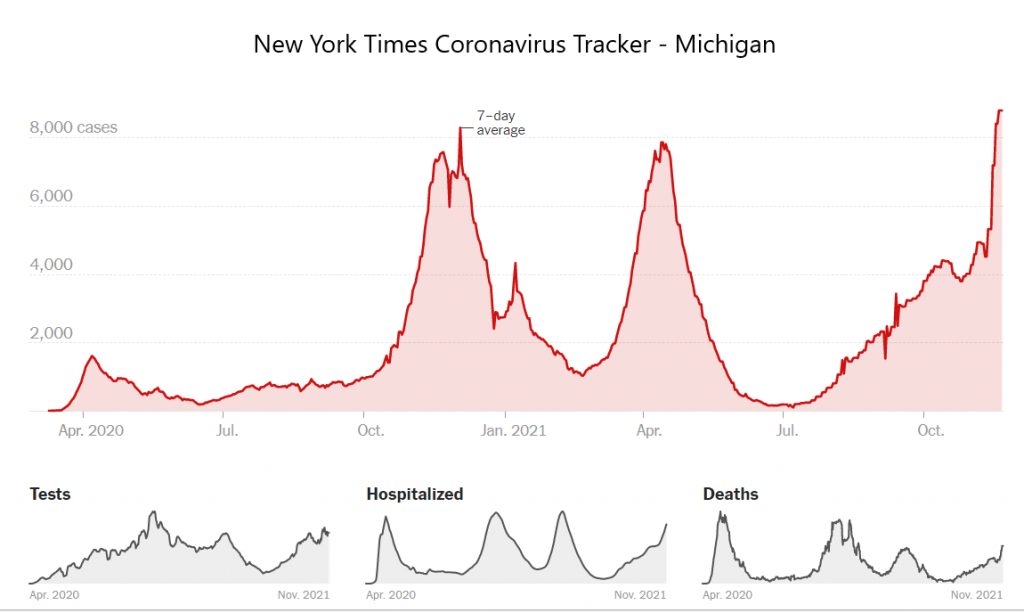 One more fact to help put the covid-19 pandemic in perspective. In a normal season the U.S. has about 38,000 people die from the flu. Over a two year period we expect that about 76,000 people would die from the common flu. We are less than two years into the pandemic and have so far lost nearly three quarters of a million people to covid-19. At the current death rate, the U.S. will very likely see another 42,000 people die over the next month and a half. Two years of covid-19 data shows that its mortality rate is more than 1000% higher than the seasonal flu.

As you think about your holiday plans this year, consider the current covid-19 situation. Consider how your choices could cost someone you care about their life. Remember, that we all have some ability to influence others. When you go out unmasked or refuse to get a vaccine, other people may watch what you do an feel like it's ok for them to do the same. Is going out to have a drink or meal at a restaurant worth risking the life of a loved one? A loved one who may have trusted that you would not make them sick? How will you feel if someone else infects someone you care about because they didn't think it was important enough to help protect others? If we continue to spread the virus at current rates, there will be tens of thousands of families who will share Thanksgiving with a friend or loved one who will not survive until Christmas.

Compared to many other countries, America has performed poorly at preventing death from the coronavirus. We have done poorly, not because we can't do better, but because we chose not to do better. We have acted selfishly and foolishly and we are suffering the consequences of those actions. We suffer not only the physical harm of poor choices but we also injure our belief and confidence that we can confront and solve our problems. We can solve the covid-19 problem, we just need to work together.

This holiday season let's do things differently. Let's strictly follow the best protocols for reducing the spread of covid-19. Whether you are vaccinated or not, wear a mask at all times in public. Wear your mask properly. If you are not vaccinated, get vaccinated immediately. If you gather together with friends or family, wear a mask and socially distance yourself anytime you must pull your mask from your face. Do the right things even if it's inconvenient. Set a positive example and encourage others to do the same. Your actions can save the life of your friends, your relatives and people you don't even know. If you act responsibly, other people will see it and some will follow your lead. When you see others wearing a mask, remember, they are indirectly helping to protect your friends and family.
This holiday season, let's work together to dramatically reduce new covid infections and deaths. Let's make a collective effort to save the lives of 42,000 fellow Americans. Let's focus less on "me" and think more about "us." There is a good chance that one or more of the saved lives might be someone you know.
We have a choice, let's do the right thing and do all we can to prevent others from the pain and grief of losing loved ones to a preventable disease.

Sources